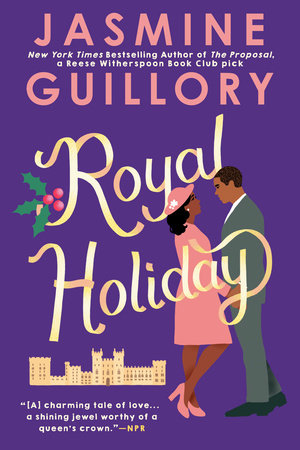 Royal Holiday
by Jasmine Guillory
Hello, friends! It has been quite a while since I have done a book review, for the very simple reason that I had not finished a single book since May! The reality of losing a job I loved, the fear surrounding the pandemic, and what felt like crisis after crisis arising all around us left me too numb and depressed to sit through an entire novel.
Well folks, after just six months I finally did it. I finished a book!
This was the second novel by Jasmine Guillory that I've now read, the first being The Wedding Party. I really enjoyed that novel and was excited to pick up any of Guillory's new titles in this 'series'. While these books do have repeat characters, the focus and who becomes the main character shifts from book to book. In The Wedding Party we were focusing on Maddie and Theo, whereas in Royal Holiday we focused on Maddie's mom, Vivian, and Malcolm.
I really enjoyed The Wedding Party because I thought it was a fresh, own voices romance that really ticked off a lot of boxes in my pursuit of good romantic fiction. Unfortunately, I think Royal Holiday fell a little flat this time around.
The premise of this story was everything I wanted: a vacation in a world where I can't leave my house, a wild romance in a time where I can't even see someone's entire face out in public, and the icing on this cake was that it's all set during the holiday season.
What worked so well for me in Guillory's previous novel was her characters. I really enjoyed Theo and Maddie's personalities, as well as the fact that it was an enemies to lovers motif. I don't want to say it was the age difference between myself and Vivian or Malcolm that added to the disconnect, because I really felt like their personalities were bland in comparison to Theo and Maddie.
The storyline itself was cute and flowed well, but I didn't feel the same sense of urgency or anticipation in this romance. I think some of this stems from the writing in this novel. I didn't enjoy the internal dialogue or descriptive scenes as much this time around, and found myself skimming large portions of the book just to get through it.
I'll have to wait and see if this is in direct correlation to my personal mindset at the time, before concluding that it was the writing itself that was the issue.
This novel was definitely a fluffy romance, with little to no angst or substance. I know a lot of people are looking for books to escape into, or a place where their mind can rest from the torment of the real world, and this honestly isn't a bad place to start.
While it's not my favorite out of the two novels I've read from Guillory, I'd love to give her another chance in the future. This one was just okay for me, but I can't forget just how enamored I was with Maddie and Theo in The Wedding Party.